---
Offering Memorandum
---
JUDKINS PARK
923 Davis Place S & Adjacent Lot
Seattle, WA 98144
Exclusively offered by The Carrington Durr Group of John L. Scott
Development opportunity in sought after Judkins Park location minutes to downtown. Two Adjacent lots totaling 8,000 SF zoned LR1 with alley access behind. Many options - condominium or apartments units or many row-house concepts. Close to I-90, SODO, Light Rail & transportation. Currently consists of a single-family house & a lightly treed vacant site. APN#7132300485 & 7132300490
Name
Judkins Park
Address
923 Davis Place S & Adjacent Lot
Parcel ID
7132300485 & 7132300490
Lot Size
8,000 Sq. Ft
Zoning
LR1
Price
$1,495,000
Total Units
3 Detached Single Family Homes (Type A)
3 Townhouse Units (Type B)
Projected SF
~11,520 Sq. Ft
Current Use
Single Family
---
Sound Transit Link Light Rail
---
The Judkins Park Station is located in the center of I-90. Riders can enter from either Rainier Avenue South or 23rd Avenue South. The nearby I-90 trail as well as local bus transfers make it easy to connect to light rail for transit riders, people walking and people cycling. In total, approximately 28 miles (or 148,800 feet) of rail will be installed between the International District / Chinatown Station and the East Channel Bridge. Depending on location, various installation methods will be used in Seattle: rail will be directly affixed to roadways and elevated guideways using concrete blocks, plinths and ballasted track, while embedded track will be installed within the Downtown Seattle Transit Tunnel as part of the International District Chinatown Station tie-in. Travel time: Judkins Park Station to Westlake - 10 minutes. [1]
The Seattle metro area is currently characterized by positive job growth, with a 2.9% gain in employment, which represents an increase of 43,000 new jobs. Downtown Seattle ranks 12th among the 231 major employment markets in the U.S. for job density, and that ranking is expected to rise. In February 2015, the unemployment rate in Seattle, hit the "ideal" rate of 4.4%. Economists consider anything under 5% full employment. Employment at software publishers is up 4 percent from a year ago, edging out a 3.4 percent gain at hospitals. A main beneficiary is the retail sector, with year-over-year job growth of 5 percent. In South Lake Union, Amazon's new 3.3 million square foot headquarters is currently under construction. The project is estimated to bring an additional 23,000 Amazon employees to the area, bringing Amazon's total employment near 50,000. Amazon is expected to occupy a total of 10 million square feet of office space by 2019. Other top area employers include F5 Networks, Zulily and the Bill and Melinda Gates Foundation which are all centrally located in the CBD.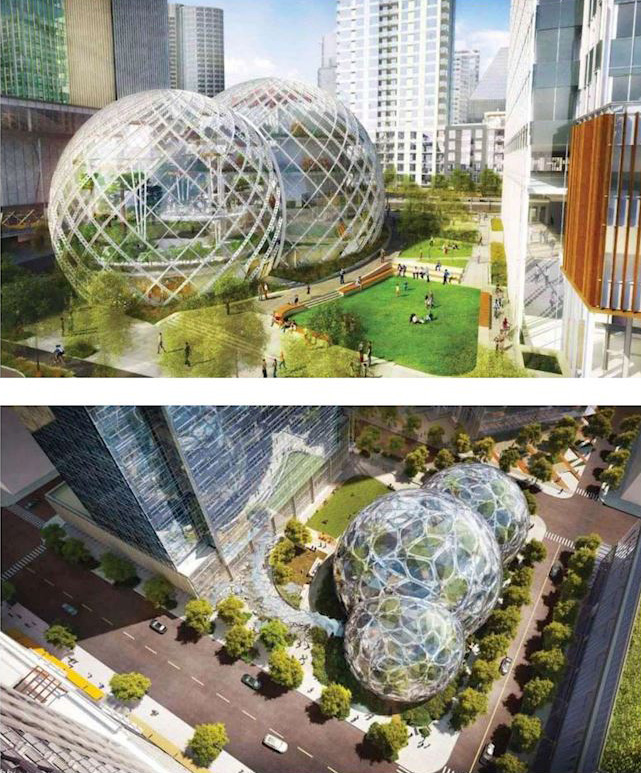 Greater Seattle excels at the industries of the future – the region is a center of innovation and features some of the world's top global brands. Our aerospace industry is one of the largest in the world, home to Boeing Commercial Airplanes and over 800 aerospace firms that employ 17% of all aerospace workers in the United States. Greater Seattle is also a leading center for information and communications technology, bolstered by industry pioneers such as Microsoft and Amazon. As a result, our region has emerged as a world leader in cloud computing and data visualization, and ranks 4th as a global startup hub ahead of New York and Boston.
> Adobe
> Alaska Airlines
> Amazon
> Apple
> AT&T Wireless
> Boeing
> Costco
> Expedia, Inc.
> Expeditors International
> F5 Networks
> Facebook
> Fred Hutchinson
> Gates Foundation
> Getty Images
> Google
> Microsoft
> Nintendo
> Nordstrom
> Paccar
> Real Networks
> REI
> Russell Investments
> SpaceX
> Starbucks
> Symetra Financial
> Tableau Software
> T-Mobile
> Twitter
> Uber
> University of Washington
> Virginia Mason
> Weyerhaeuser
> Zillow
> Zulily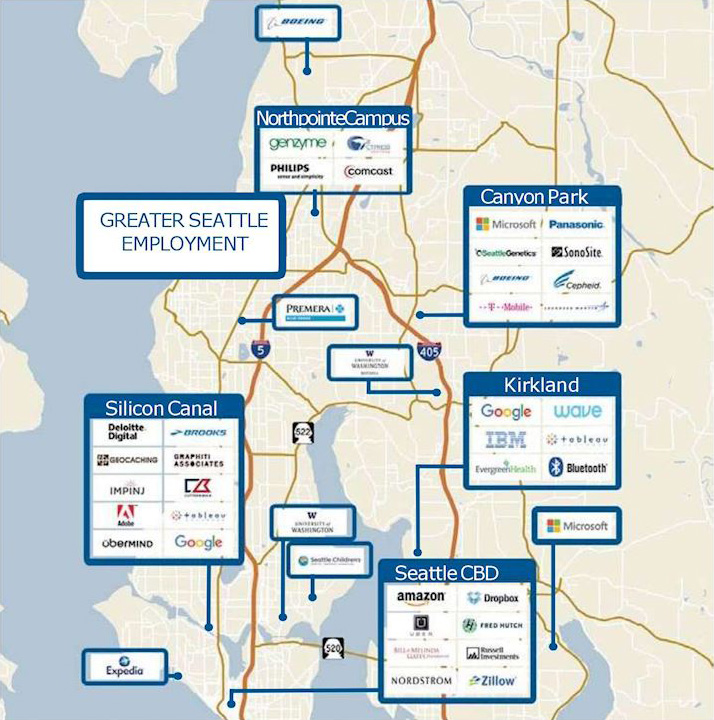 ---
Apartment Project Summary
---
Project Summary
Address: 923 Davis Place S & Adjacent Lot
Lot Size: 8,000 SF
Zoning: LR1
Overlays: None
Frequent Transit: Yes
Height Limit: 30FT + 3' For Shed rof or 4' For Parapets
Parking Required: .5 Stall/Unit
Density: Unlimited
Amenity Area: 25% of Lot SF
Building Summary
FAR Allowed: 8,000 x 1.3 =10.400 SF
FAR Proposed: (3)1,760 +(3)1,680=10,320 SF
Amenity Area REQ'D: 8,000 X .25=2,000 SF
Amity Area Provided: 2,500 SF
Unit/Parking Count
3 Detached Single Family Homes (Type A)
( 4 Bedrooms, 2.5 Baths + 1 Car Garage )
3 Townhouse Units (Type B)
( 3 Bedrooms (2.5 Baths) + 1 Car Garage )
---

Wendy Carrington
(206) 948.3852 | wlc@johnlscott.com | WendyCarrington.com
901 Fairview Ave N | Suite 120 | Seattle, WA 98109