---
Offering Memorandum
---
CAPITOL HILL
129 & 133 21st Ave E
Seattle, WA 98112
Exclusively offered by The Carrington Durr Group of John L. Scott
Development opportunity in sought after Capitol Hill location.Two Adjacent level lots totaling 9,883 SF zoned LR3 in Madison-Miller urban residential village w/alley access behind.Many options - potentially more than 40 condominium or apartments units or many row-house concepts.Close to Trader Joe's & Miller Comm Ctr between Madison & E Thomas St.Currently consists of a 4-plex & a triplex offering income stream during permitting process.DO NOT DISTURB CURRENT OCCUPANTS! APN#0955000365/0955000370
| | |
| --- | --- |
| Name | Capitol Hill |
| Address | 129 & 133 21st Ave E |
| Parcel ID | 0955000370 & 0955000365 |
| Lot Size | 9,883 Sq. Ft |
| Zoning | LR3 |
| Price | $3,950,000 |
| Total Units | ~40 Units |
| Projected SF | ~19,200 Sq. Ft |
| Current Use | Quadruplex & Triplex |
---
Sound Transit Link Light Rail
---
Capitol Hill station is located on Broadway between East Denny Way and East John Street, in the Broadway District of Capitol Hill, northeast of Downtown Seattle. The station is immediately west of Cal Anderson Park and north of the Seattle Central College campus. The Seattle University campus, Pike–Pine nightlife corridor, and Volunteer Park are also within a short distance of the station.

The area surrounding the station is primarily zoned for multi-family dwellings and has 15,098 total housing units with 20,890 residents within a half-mile (0.8 km) radius; these units are primarily renter-occupied and roughly 17 percent of units are affordable to lower-income households, with some subsidized housing nearby. There is also a major commercial strip on Broadway supporting ground-level retail stores and other uses; the area is also home to 15,171 jobs. The Capitol Hill neighborhood has the highest population density of any area in Washington state,with 55,000 people per square mile (21,000 per km2). [1]
The Seattle metro area is currently characterized by positive job growth, with a 2.9% gain in employment, which represents an increase of 43,000 new jobs. Downtown Seattle ranks 12th among the 231 major employment markets in the U.S. for job density, and that ranking is expected to rise. In February 2015, the unemployment rate in Seattle, hit the "ideal" rate of 4.4%. Economists consider anything under 5% full employment. Employment at software publishers is up 4 percent from a year ago, edging out a 3.4 percent gain at hospitals. A main beneficiary is the retail sector, with year-over-year job growth of 5 percent. In South Lake Union, Amazon's new 3.3 million square foot headquarters is currently under construction. The project is estimated to bring an additional 23,000 Amazon employees to the area, bringing Amazon's total employment near 50,000. Amazon is expected to occupy a total of 10 million square feet of office space by 2019. Other top area employers include F5 Networks, Zulily and the Bill and Melinda Gates Foundation which are all centrally located in the CBD.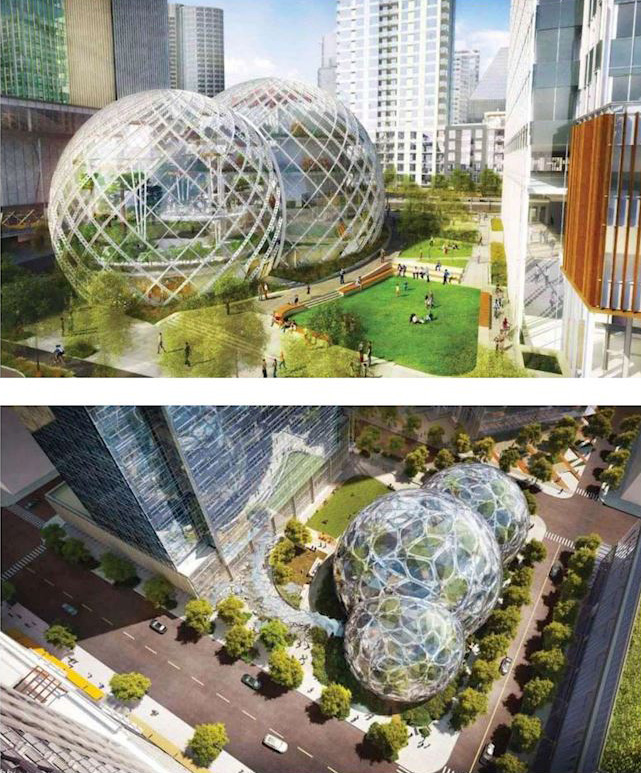 Greater Seattle excels at the industries of the future – the region is a center of innovation and features some of the world's top global brands. Our aerospace industry is one of the largest in the world, home to Boeing Commercial Airplanes and over 800 aerospace firms that employ 17% of all aerospace workers in the United States. Greater Seattle is also a leading center for information and communications technology, bolstered by industry pioneers such as Microsoft and Amazon. As a result, our region has emerged as a world leader in cloud computing and data visualization, and ranks 4th as a global startup hub ahead of New York and Boston.
> Adobe
> Alaska Airlines
> Amazon
> Apple
> AT&T Wireless
> Boeing
> Costco
> Expedia, Inc.
> Expeditors International
> F5 Networks
> Facebook
> Fred Hutchinson
> Gates Foundation
> Getty Images
> Google
> Microsoft
> Nintendo
> Nordstrom
> Paccar
> Real Networks
> REI
> Russell Investments
> SpaceX
> Starbucks
> Symetra Financial
> Tableau Software
> T-Mobile
> Twitter
> Uber
> University of Washington
> Virginia Mason
> Weyerhaeuser
> Zillow
> Zulily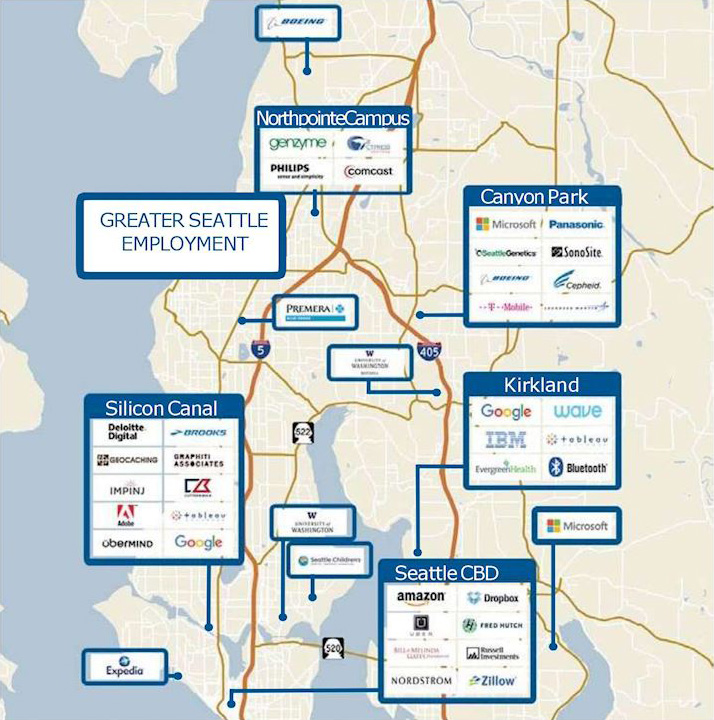 ---

Wendy Carrington
P 206.948.3852 | WendyCarrington.com
901 Fairview Ave N | Suite 120 | Seattle, WA 98109